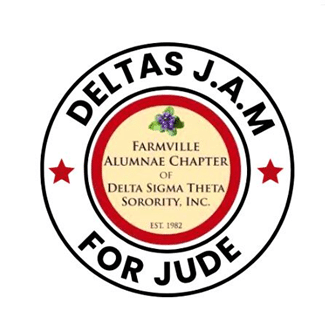 The Farmville Alumnae Chapter and the Fit Academy join forces to fundraise for St. Jude Children's Research Hospital!
Join us and donate today! http://walkrun.stjude.org/FarmvilleDST
Today marks the beginning of September, which is Childhood Cancer Awareness Month! The F.A.C. Deltas and The Fit Academy are joining the nationwide movement to honor Childhood Cancer Awareness Month and support those who need us most – the kids of St. Jude Children's Research Hospital.
The Farmville Alumnae Chapter and The Fit Academy have collectively set out to raise $3,000 ($1500, respectfully).
We know that $1000 – covers about 2/3 of the cost of ONE day of chemotherapy, AND $2500 helps to cover the cost of 13 days of oxygen for a St. Jude patient. These are critical for their care.
St. Jude never sends families a bill – every dollar we raise makes a difference in saving kids regardless of their financial situation.
Can we count on your donation to help us reach our goal?
WE hope that is a resounding – YES, we will help! Tell us how!
You can JOIN US (means you create a team under either of our accounts and fundraise amongst your family or friends):
http://walkrun.stjude.org/FarmvilleDST
You can DONATE (this means you will make a check donation – payable to St. Jude Research Hospital or make an online donation using the links below).
Donate to The Fit Academy: CLICK HERE
Donate to Farmville DST: CLICK HERE
Participate in our face-to-face event on September 30th – Deltas J.A.M. for Jude!

You must be a registered participant to attend. We will need an accurate count. So, CLICK HERE to sign up. This form is separate from the St. Jude site.